I got to participate in a really fun goodies swap organized by Jessica of Rainy Sunday when our mutual friend Amy passed the good word onto me. I'm looking forward to being part of more of these super swaps!

Here were the guidelines:

G2G Fall Goodie Swap

Hello Friends,

Welcome to the first of the G2G (girl to girl) goodie swaps – woohoo! We already have a great group of cool chickies participating. Once I get the final, final word from those participating, I will pair you all together the old-fashioned way: the old paper in the hat trick. Stay tuned, I will email you all by the end of next week regarding your swap pal.

Here are the details for the swap.

*The theme is: Fall comfort goodies.

The cooler temps make me think of a nice fleece blanket around my feet, sipping hot tea, warm aromatherapy baths, and the beautiful color of the changing leaves.

*Spend around $25 bucks. Remember, one item should be handmade. Some ideas are: pebble stone magnets for the fridge, embellished stationary, homemade candles or soap, a beaded necklace, painted wine glass, a knitted

scarf, homemade cookies, wine charms, a queen-sized quilt (just kidding!), homemade jam. Martha Stewart.com has a lot of really cool bath and body kit ideas (some are little pricey – but could probably be found on another

site). Have fun finding little things to fill the box.

Here is one example of goodie box contents: Cute tote bag for makeup, Sweedish fish, votive candle, fun pens and pencils, stick-um notes shaped like a teapot, cool pewter dog push-pins, vanilla chapstick, purse-sized

handcream, and a note (of course)!

*Include a note to your swap pal describing the contents of the goodie box.

*The deadline is October 15. This means your swap pal should be pleasantly surprised on this date when they arrive home to find their goodie swap box on their doorstep.

*Have Fun!*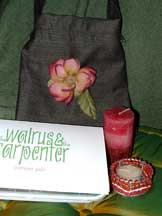 THE GOODIES I GAVE:  I think I was operating under a "hot-cha" theme and picked up a lot of goodies in the berry color family, which I love for autumn.

Things I made:

* handbag in a tweedy grey cotton with a fuschia & white kimono-esque print cotton lining and a fuschia magnolia I stitched to the outside of the bag

* strawberry mango lip balm

* lilac solid perfume

* english garden and lilac bath tarts

Things I bought:

* spicy layered candle (mmm!)

* beaded tea-light candle holder

* cover girl nail polish in quaintly copper (pretty iridescent mauvey coppery look to it, fun!)

* stash english breakfast tea (isn't tea so warm and wonderful after a cold day out?)

* anthon berg chocolates (yum! some of my favorites every time we hit the duty free shop at heathrow): strawberries in champagne and apricots in brandy ~ I popped these into a chinese carryout container and tied it up with a bow.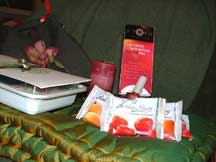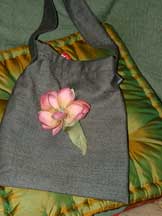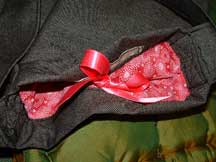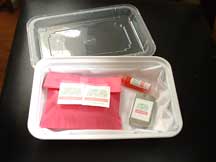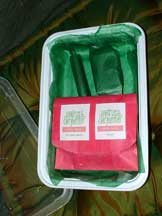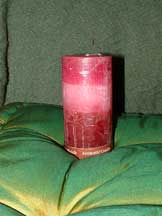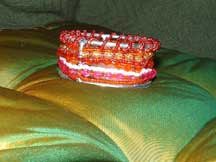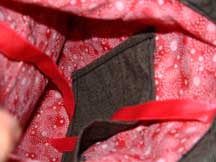 THE GOODIES I GOT:  I was truly flabbergasted with the overabundance of wonderful goodies from my swap-mate, Dina. I must tell you, she totally kicked butt, and I was so very, very impressed with her creativity, style, and talent. It was so exciting to unwrap the box, which was literally chockful of wonderments. Hubby helped open the package (a bit envious of my stash, I gather! We did both tuck into the Ghiradelli chockies straight away). It was so much fun; like being a kid on Christmas morning.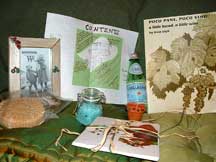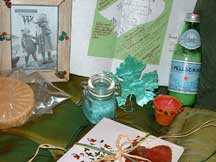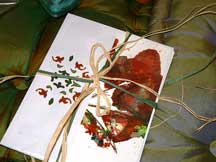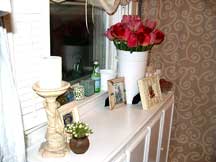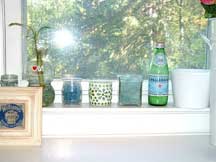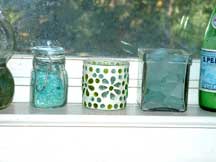 Things Dina sent:

* autumn stationery (Dina-made)

* beaded, distressed picture frame (Dina-made)

* cinnamon-scented soywax votive (Dina-made)

* papier mache grapeleaf made by Dina's mom

* edible legend book by Dina's mom and edited and designed by Jessica's mom (what a great story!)

* green sea salts in a san pellegrino bottle (Dina-made)

* victorian sea salts in a glass bale jar (Dina-made)

* pumpkin goatsmilk soap (made by Wanda, from Dina's hometown of Markleeville)

* ghiradelli dark chocolate and mint centers

I only wish I had actually handmade more of the things I tucked into Dina's package (she is truly impressive, no?). So many of Dina's goodies fit right in with our bathroom seaglass/seaside wish theme.

Ladies and gents, I most definitely recommend partaking of a goodie swap or two if the opportunity presents itself. Hopefully, you'll be as lucky as I was with such a fabulous swap partner (who has been loads of fun to get to know!).

HUGEST thanks to Jessica for organizing this fun swap, to Amy for inviting me to join, and to Dina for being my swap buddy!