N O T  M A S S - M A N U F A CT U R E D


N O  2  E V E R  E X A C T L Y  A L I K E

t h e   w a l r u s   a n d   t h e   c a r p e n t e r


Say it loud. Say it proud. The nuts, the chewy candied fruit, the texture...

What says holiday more than fruitcake? The much maligned cake has earned itself much deserved jeers (hello, don't buy them at the gas station!), but how about the fine cheers it's owed?

If you like fruitcake (there are more of us than you'd know), say it loud and say it proud. Proclaim your affinity for the fruity, nutty, chewy good stuff with our I Like Fruitcake cards!

Set of 4 blank notecards, 4.25" x 5.25", one design, with 4 blank white envelopes for you to send on a Fruitcake-praising greeting to your favorite peeps this holiday season.

$6.00 Set of 4 Notecards.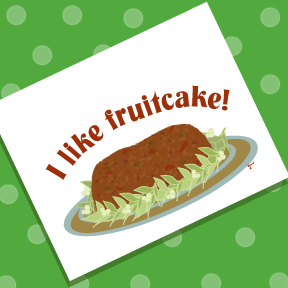 copyright 2003-2009, the walrus and the carpenter. all rights reserved.