copyright 2003-2005, the walrus and the carpenter. all rights reserved.

GOODIES FOR GOODNESS' SAKE!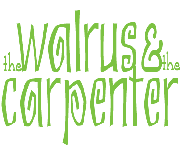 Goodies for goodness' sake!

Original artwork, illustration goodies, and fun craft supplies  for people who revel in not completely blending into the background 

Great for gifting for you and yours


"The time has come," the Walrus said, "to talk of many things: of shoes ~ and ships ~ and sealing wax ~ of cabbages ~ and kings ~ and why the sea is boiling hot ~ and whether pigs have wings."