the walrus and the carpenter

copyright 2003-2009, the walrus and the carpenter. all rights reserved.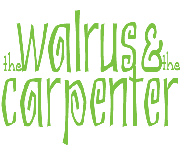 GRAND REOPENING 2009

Thanks to all of you who visited The Walrus & The Carpenter even while we were closed for maternity leave! We hope you all had a wonderful holiday period and that the season is treating you well. We are revamping The Walrus & The Carpenter a bit, so there may be some construction dust (feel free to let us know if you trudge into any or need a hand getting around)...

For the reopening, we are glad to present some new art prints for your eye candy pleasure. Doesn't the appearance of (or wish for) spring make you want to freshen your space up a bit? We are always rotating artwork around the Walrus studio, so we love the option for new and affordable artwork whenever possible.

We are aiming to add a new illustration/print about once every two weeks, so feel free to
sign up for the newsletter
to keep on top of the updates.
Thanks for visiting today and happy spring!

-Giao & Hoa

GOODIES FOR GOODNESS' SAKE!