N O T  M A S S - M A N U F A CT U R E D


N O  2  E V E R  E X A C T L Y  A L I K E

t h e   w a l r u s   a n d   t h e   c a r p e n t e r


Plum pudding is a steamed or boiled pudding frequently served at holiday times. Plum pudding has never contained plums. The name Christmas pudding is first recorded in 1858 in a novel by Anthony Trollope.

By virtue of marrying a Brit, Giao has come to experience the loveliness of the traditional Christmas plum pudding. It tastes like grown-up version of a nice fruitcake, with the benefit  of soaking in wine and brandy!

Send your friends and family a note of happy cheer for the holidays with a taste of Plum Pud. Who doesn't love a note with a yummy slice of tradition?

Set of 4 blank notecards, 4.25" x 5.25", one design, with 4 blank white envelopes for you to send on a Plum Pud greeting to your favorite peeps this holiday season.

$6.00 Set of 4 Notecards.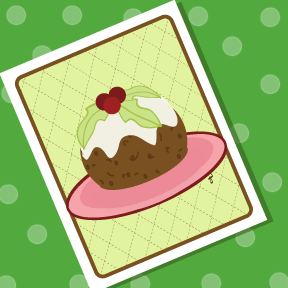 copyright 2003-2009, the walrus and the carpenter. all rights reserved.