t h e   w a l r u s   a n d   t h e   c a r p e n t e r

N O T  M A S S - M A N U F A CT U R E D

N O  2  E V E R  E X A C T L Y  A L I K E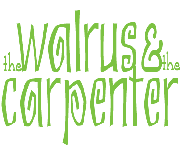 "Be what you would seem to be" -- or if you'd like it put more simply -- "Never imagine yourself not to be otherwise than what it might appear to others that what you were or might have been was not otherwise than what you had been would have appeared to them to be otherwise."

~ the Duchess' advice to Alice in chapter 9 of

"Alice's Adventures in Wonderland" by Lewis Carroll


wicker park, chicago il

booth #56!

Save yourself the shipping, finger the goodies before you buy, and meet The Walrus & The Carpenter on the road!!




wicker park, chicago, il

booth #10!

FREE ADMISSION

november 13, 2004

pulaski park auditorium 1419 w. blackhawk chicago, il

10:00am - 4:30pm

copyright 2003-2009, the walrus and the carpenter. all rights reserved.