N O T  M A S S - M A N U F A CT U R E D


N O  2  E V E R  E X A C T L Y  A L I K E

t h e   w a l r u s   a n d   t h e   c a r p e n t e r

copyright 2003, the walrus and the carpenter. all rights reserved.


FAIRYLAND MARMALADE ROOM FRESHENER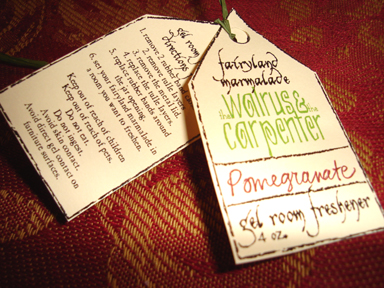 Yummify your rooms with the delicious scents of our Fairyland Marmalade! Though they look scrumptious enough to spoon onto toast, they're not for eating!

These lovely little (4 ounce) jelly jars filled with water-based scented gel crystals handmade by
Hoa
make welcome additions to any room that could use an olfactory lift. Each jar is covered with a flouncy bit of tull and topped off with pretty leaves, berries, and flowers reminiscent of a far-off fairyland. To use the room fresheners, remove the metal jelly jar lid and replace the tulle layers (keep them in place atop the jar opening with the vine-colored rubber bands we include--1 plain band and 1 band decoratively wrapped in the flowers and leaves).
$6.00

We currently have the following flavors available for immediate delivery:

We can custom make a Fairyland Marmalade for you in any of the scents in our fragrance library. Custom orders will take approximately 2-3 weeks for delivery.

Keep out of reach of children. Keep out of reach of pets.

Do not eat. Do not ingest. Avoid skin contact.

Avoid direct gel contact on furniture surfaces.