N O T  M A S S - M A N U F A CT U R E D


N O  2  E V E R  E X A C T L Y  A L I K E

t h e   w a l r u s   a n d   t h e   c a r p e n t e r

copyright 2003, the walrus and the carpenter. all rights reserved.


K I M O N O  J A C K E T S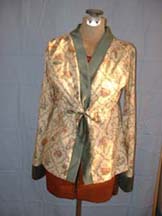 Kimono jackets are fantastic for adding that extra layer for comfort
and
style. Hoa is the genius lady behind the making of these, while Hoa and Giao worked together on designs for function in addition to looks. Fabrics may be subject to availability, as we do not buy our fabrics in bulk. But feel free to
drop us a line
if you would like one of the pictured styles in your own fabrics or in some of our other available fabrics.