t h e   w a l r u s   a n d   t h e   c a r p e n t e r

copyright 2003, the walrus and the carpenter. all rights reserved.


N O T  M A S S - M A N U F A CT U R E D

N O  2  E V E R  E X A C T L Y  A L I K E

A night out calls for a stylish but easy-to-handle little bag for your necessaries (ID, credit cards, taxi cab money, and so on and so forth). You don't want to be schlepping around a huge tote with the potential of collecting loads of runoff beer by night's end. A mini-bag gives you just enough room to bring along your things while being small enough to tuck inconspicuously under your arm whilst hoofing it across city streets.

All bags are fully lined. Fabrics may be subject to availability, as I often craft these babies from remnants and vintage finds.

I'm on a real neopolitan kick (like the Brachs candy, not so much the ice-cream foodstuff of yore) these days, so don't be surprised if you find this to be a recurring theme. This nifty little bag is a heavy cotton/poly blend uphostery/decor fabric with ivory and pink stripes. Satiny brown ribbon straps and a vintage green flower button top the bag off. Lining is an ivory and custard striped upholstery fabric. Snap closure to keep your things in.

$12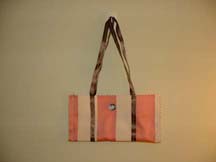 This bag's been sold, but we'd be glad to craft a new one up just for you! Drop us a line!