N O T  M A S S - M A N U F A CT U R E D


N O  2  E V E R  E X A C T L Y  A L I K E

t h e   w a l r u s   a n d   t h e   c a r p e n t e r

copyright 2003, the walrus and the carpenter. all rights reserved.


P A N T L Y  B O T T O M S

Slip your lower half into a fun or funky little number from The Walrus & The Carpenter. Yeah, yeah, pants are pants and all that jazz, but a little bit of fun now and again never hurt anyone. As is usual, fabrics may be subject to availablity, as we don't buy in bulk. But that saves you the fear of the embarrassment of rolling up to some locale wearing the same thing some other lady's sporting. Now isn't that a load off?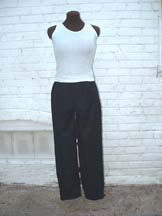 f r o g  t r i m m e d

p a n t s