t h e   w a l r u s   a n d   t h e   c a r p e n t e r

copyright 2003, the walrus and the carpenter. all rights reserved.


N O T  M A S S - M A N U F A CT U R E D

N O  2  E V E R  E X A C T L Y  A L I K E

Sometimes, you just need a bag big enough to carry your current read along for those waits (in lines, for tables, for friends). Sometimes, you need a bag big enough to get you through a weekend of beaching and sleeping over with a little bit of this and a little bit of that thrown in. Snag a tote bag or two from The Walrus & The Carpenter to carry all your goodies and necessities with you. Don't forget to tote along a nice hostess gift for your gracious hostess if you're overnighting it (it'll fit in your bag!)!

Bags are fully lined. Fabrics may be subject to availability, as I make most of these from remnants and/or vintage finds. Materials, features, and sizes noted below.

Kiwi-Lime-Strawberry-Chocolate Commuter Tote

The yummy colors on this bag make me think summer (or even, a ripe spring). The practical shape will allow you to stash the daily paper, a notepad or two, books--things to keep you from having to brave a long public transit ride in without a cushion of me-alone-time. Lime/kiwi-colored cotton canvas shell with a fun a fuzzy strawberry-sorbet colored stripe of felt with chocolately brown nylon straps. Cotton berry-colored and textured lining with berry felt pockets and compartments for your pens, cell phone, loose change, and a few makeup essentials.           










$24.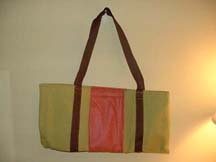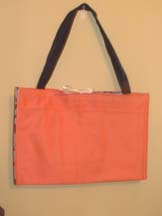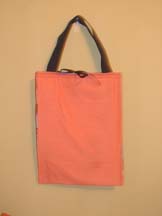 Basic Tote

Cotton shell, cotton twill ribbon closure, and a funky vinyl lining. Perfect for carrying lunch or art supplies, you crafty little minx. 8" x 11.5"

$15.