N O T  M A S S - M A N U F A CT U R E D


N O  2  E V E R  E X A C T L Y  A L I K E

t h e   w a l r u s   a n d   t h e   c a r p e n t e r

copyright 2003, the walrus and the carpenter. all rights reserved.


W I N E  G L A S S  T A G S

Scoop up some fun doodads to stake your claim on the vino. Silvertoned rings are adorned by various pretties, baubles, and gem-jams and come in sets of 6, unless otherwise noted.

Great for wedding showers or a fun little gift for the newlyweds! Pewter charms that tell the world, "we're getting married:"

* cupid

* engagement solitaire ring

* "just married" car

* wedding cake

* wedding bells

* love

{mix and match this set with other winetag sets for big parties!}

$7.00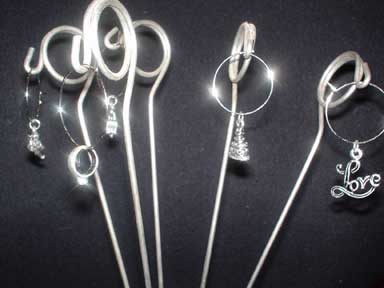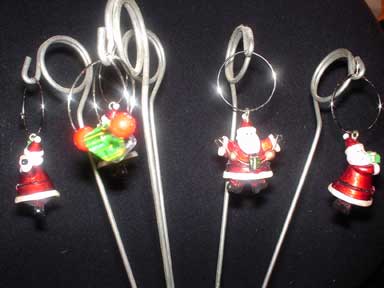 Strike up the holidays with resin gift-toting Santas and glass bead ribbon candy winetags:

* santa with tree

* green ribbon candy with red

  nonpareil beads

* santa with garland

* santa with giftbox

* red ribbon candy with green

  nonpareil beads

* santa with bluebird

{mix and match this set with other winetag sets for big parties!}

$7.00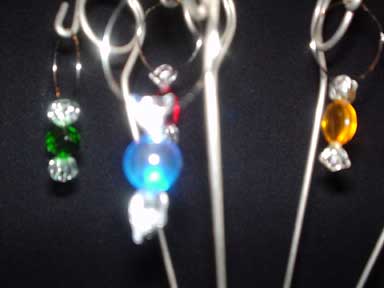 Sweet visions will be dancing in your head with these fabu plastic candy winetags (4 tags):

* green

* red

* blue

* golden

{mix and match this set with other winetag sets for big parties!}

$4.00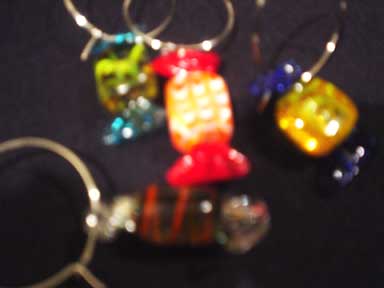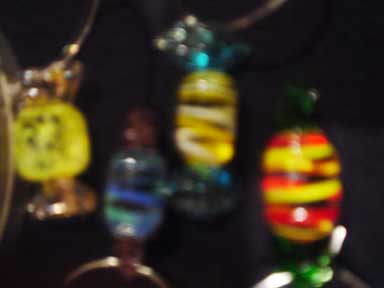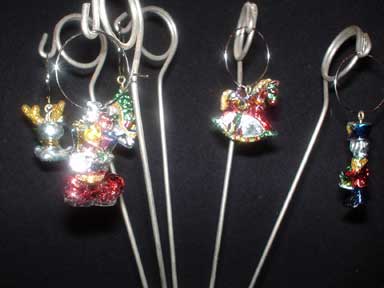 Sweet visions will be dancing in your head with these fabu blown glass candy winetags (4 tags):

* yellow and blue

* orange and red

* green and orange

* orange and blue

{mix and match this set with other winetag sets for big parties!}

$6.00

Sweet visions will be dancing in your head with these fabu blown glass candy winetags (4 tags):

* yellow and orange

* blue and purple

* yellow and blue

* red and green

{mix and match this set with other winetag sets for big parties!}

$6.00

Strike up the holidays with resin metallic finished Christmas ornament winetags:

* reindeer

* stocking full of gifts

* christmas tree

* rocking horse

* drummer boy

* soldier

{mix and match this set with other winetag sets for big parties!}

$7.00