t h e   w a l r u s   a n d   t h e   c a r p e n t e r

copyright 2003, the walrus and the carpenter. all rights reserved.


N O T  M A S S - M A N U F A CT U R E D

N O  2  E V E R  E X A C T L Y  A L I K E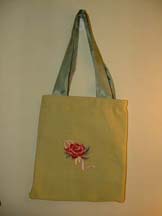 Handbags are fully lined and nifty little additions to top of that sassy outfit you're gadding about town in. Dimensions and features are noted by each bag. Availability may be subject to fabrics at hand, as I don't buy in bulk and prefer to buy remnants and vintage finds. If you have special requests for sizes, fabrics, or colors, feel free to
email me
!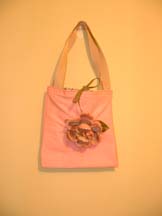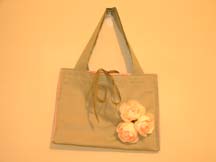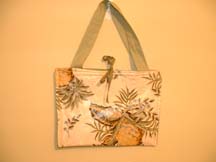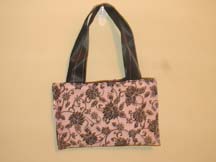 Everything's Rosey Handbag

Fashioned from a soft pink cotton, lined in a funky vinyl print, tied closed with cotton twill ribbon, and festive with a fabulous pink rose. Beige nylon double strappy. 6" x 9"

$25.

Everything's Rosey Handbag II

Fashioned from a durable lime green cotton twill, lined in a fun cotton print and finished off with a lovely pink rose applique. 7" x 9.5"

$25.

These handy little bags have been sold, but we'd be glad to make you something just for you, by your specs!