t h e   w a l r u s   a n d   t h e   c a r p e n t e r

copyright 2003, the walrus and the carpenter. all rights reserved.


N O T  M A S S - M A N U F A CT U R E D

N O  2  E V E R  E X A C T L Y  A L I K E

This cute little number is a simple work in subtle paradox. Heavy ivory twill gives this bag a slightly rugged feel, while a sky blue linen pocket gives it a whispery soft "something blue." Pearl snap closure to keep things contained, fabric single strap of the same ivory twill, and a final flouish of an ivory "silk" peony blossom to zing at everyone that you are, indeed, the bride.

Do you need bags that match the wedding colors/themes? Want a different flower or fabric type? We can custom-tailor bags for you using your own fabrics. Drop us an
email
for details.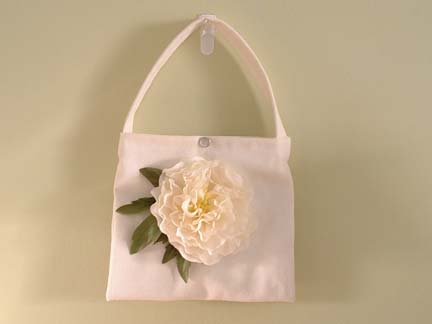 I V O R Y  B R I D E

5.75" h x 6" w

ivory

twill

blue linen pocket

ivory artificial peony bloom

pearl snap closure