t h e   w a l r u s   a n d   t h e   c a r p e n t e r

copyright 2003, the walrus and the carpenter. all rights reserved.


N O T  M A S S - M A N U F A CT U R E D

N O  2  E V E R  E X A C T L Y  A L I K E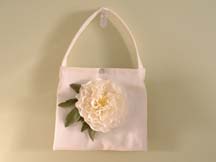 Whether it's your big day or you're standing up for your gal pal, you're going to need a cute little pursey purse to carry the essentials (camera, lipstick, tampons, what-have-you!!). Besides, who turns down a very valid, very good excuse for a new bag? Pluck a few blooming bags from The Walrus & The Carpenter. We'd be honored.

Do you need bags that match the wedding colors/themes? We can
custom-tailor
bags for you using your own fabrics. Drop us an
email
for details.
All bags are fully lined. Fabrics and dimensions noted below.